<2023/2024 season> Single tickets for the autumn regular concert (September to November 2023) will go on sale from Saturday, June 3.
Yutaka Sado x New Japan Philharmonic Theme is Wien Line
Under the theme of "Wien Line", the new season will center on the German-Austrian music of Sado, who is based in Vienna, with a repertoire of works by composers active in Vienna. . Haydn and Bruckner will be featured on Sado this October. Please enjoy the comparison of the organization and music by the two composers who were active mainly in the same Vienna after about 100 years.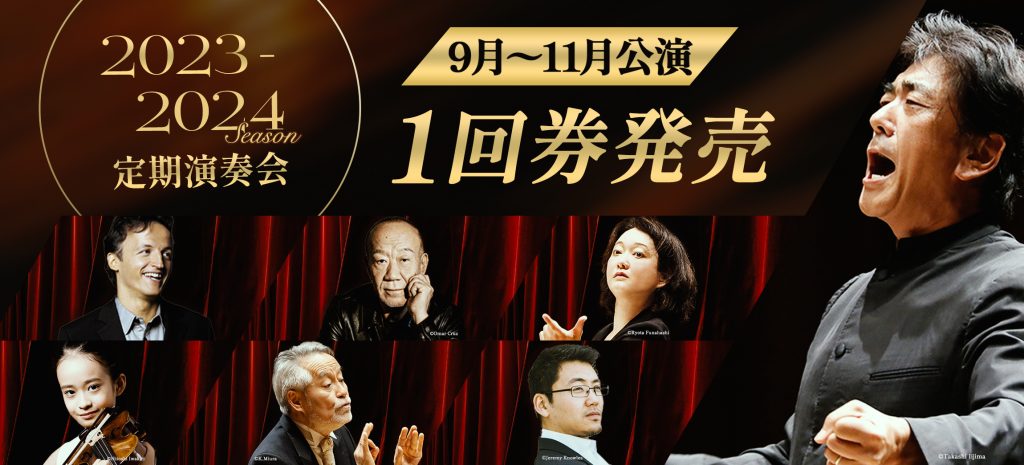 ■ Ticket release date (both from 10:00)
Priority sale (target: regular members and patronage members) 5/27 (Sat)
Priority sale (Target: My Plan members) 5/30 (Tue) *For those who purchased the 2023/2024 regular concert with My Plan
General release 6/3 (Sat)
♪The 651st Subscription Concert
Hisaishi's musical world materialized I Joe Hisaishi × Mahler
Conductor: Joe Hisaishi
Joe Hisaishi: new work
Mahler: Symphony No. 5 in C sharp minor
♪ Sumida Classical Music Concert 17th
Delicate, majestic... 2 masterpieces of Ravel Tchaikovsky's last years
Conductor: Kanako Abe Piano: Kenji Miura
Ravel: Pavane for a Dead Princess (orchestral version)
Ravel: Piano Concerto in G major
Tchaikovsky: Symphony No. 6 in B minor, op. 74 "Pathétique"
♪ Sumida Classical Music Concert 18th
Thoughts and Longing - Hidemi Suzuki's Imaginary Landscapes "Unfinished" and "Pastoral"
Conductor: Hidemi Suzuki
Mendelssohn: Overture "Fingal's Cave" op.26
Schubert: Symphony No. 7 in B minor, D.759 "Unfinished"
Beethoven: Symphony No. 6 in F major, op. 68 "Pastoral"
♪The 652nd Subscription Concert
Bruckner, the real thrill of Haydn Orchestra's music full of humor
Conductor: Yutaka Sado
Haydn: Symphony No. 44 in E Minor, Hob.I:44 "Sorrow"
Bruckner: Symphony No. 4 in E-flat major, WAB 104 "Romantic" (Novak edition)
♪ Sumida Classical Music Concert 19th
Spinoji's Opera Masterpieces Genius Violinist HIMARI
Conductor: Jean-Christophe Spinosi Violin: HIMARI
Rossini: Overture to "The Italian Woman in Algiers"
Verdi: Opera "Force of Fate" Overture
Wieniawski: Violin Concerto No. 1 in F sharp minor, op. 14
Wagner: "Prelude and Love Death" from "Tristan and Isolde"
Bizet: Carmen Suite No. 1
Advantageous Continuous Ticket, Ticket・My plan