Electronic tickets can now be selected when making reservations from New Japan Philharmonic Ticket Online.
You can download your ticket to your smartphone. No ticketing procedures are required.
POINT
go paperless
Easy entry!
Just show the e-ticket to the staff when you enter. It is safe because it is non-contact.
POINT
Ticketing/delivery fee
unnecessary
Ticketing and shipping fees that would normally be incurred for purchases are not incurred.
* Electronic ticket system usage fee is 150 yen per ticket.
POINT
Lost/forgotten tickets
Dissolution
Since it is an electronic ticket, you will never lose your ticket.
POINT
distribution of tickets
Easy!
Tickets can be handed over without meeting a friend or acquaintance.
Before using
Target Performance
All sponsored performances (regular concerts, special concerts, chamber music series)
Regular concerts can be used when purchasing a single ticket or a Ticket・My plan. Continuous Ticket are not eligible.
Terms of use
Customers who have reserved tickets for the sponsored performance on New Japan Philharmonic Ticket Online.
In order to use electronic tickets, you need to register as a New Japan Philharmonic Ticket Online member.
Required environment
You can use it if you have a smartphone (iPhone or android).
You need to install the communication app LINE to use it.
* It cannot be used with mobile phones other than smartphones (feature phones) and Raku smartphones. Tablets are not recommended devices.
Purchase procedure
STEP 1
When reserving tickets from New Japan Philharmonic Ticket Online,
Select "Credit card payment" → "Electronic ticket issuing".
STEP 2
After payment is completed, you will receive an "electronic ticket issuing information email".
Please check the URL or "Electronic ticket list" on the customer's My Page of Ticket Online.
* In addition to the ticket price, an electronic ticket system usage fee of 150 yen per case will be charged.
Ticket distribution is also possible. For details, please check the service information page.
Flow of using MOALA Ticket
How to use on the day of the concert
STEP 1
Tap the ticket URL and log in with LINE.
* LINE is required to display tickets.
*Be sure to log in with your LINE account and register as an owner.
*For more information about LINE Login, please see LINE Login Owner Registration.
STEP 2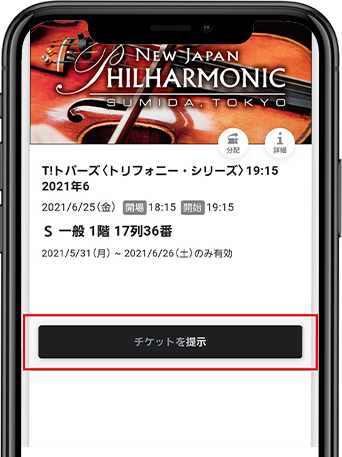 Press the "Show ticket" button to open the ticket screen
[For multiple tickets]
Swipe the ticket horizontally to see the next ticket.
You can distribute tickets to your companions in advance.
For smooth entry, please distribute your tickets in advance.
Please check the service information page below for how to distribute tickets.
Flow of using MOALA Ticket
STEP 3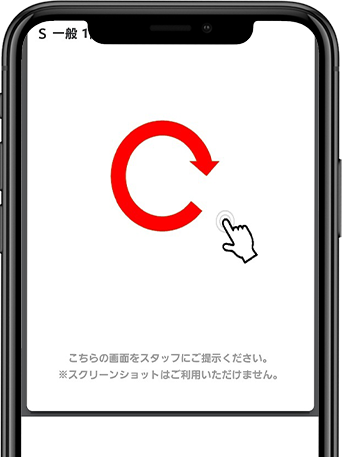 Please draw a circle with your finger on the screen by yourself.
*Can be operated from 30 minutes before opening.
*When you press the "Show ticket" button, it will be in "Usage mode" and the stamp will react.
*The QR code may not be displayed depending on the event.
STEP 4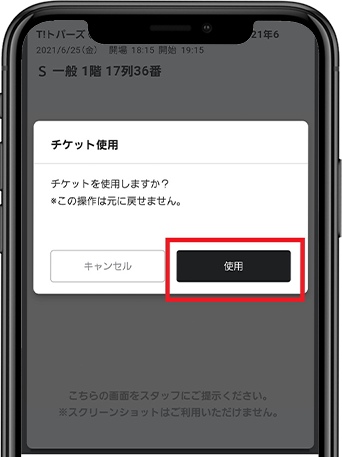 Use ticket? and press "Use".
STEP 5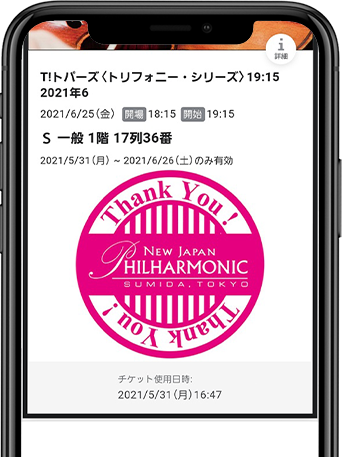 Please show the stamp image to the staff at the entrance.